<![if !vml]>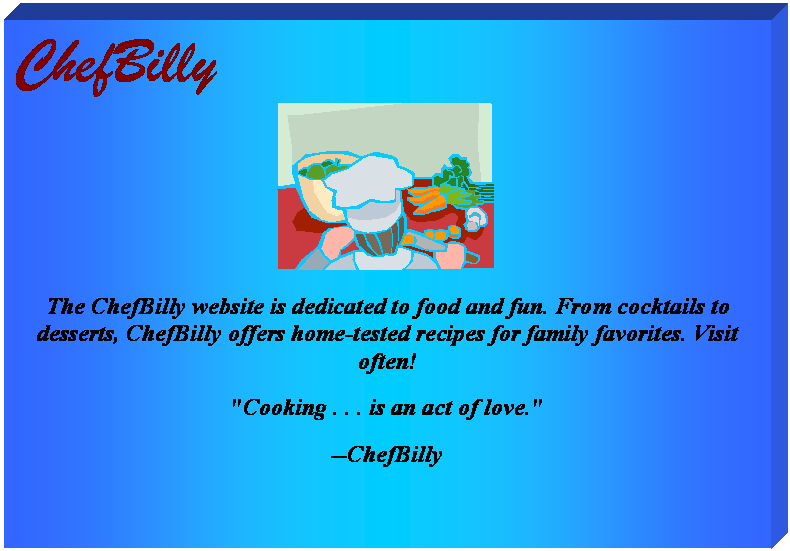 <![endif]>                                                  
ChefBilly.org
THE WORLD'S GREATEST PARTIES
<![if !vml]><![endif]><![if !vml]><![endif]>

and

What's cooking at . . .

<![if !vml]> <![endif]>

As an associate of Amazon.com, ChefBilly receives up-to-the-minute information on great bargains and selections. Visit The Resource Center for his personal recommendations!
In a hurry? See today's specials arranged by category at Hot Shots. Hot shots are updated each time you visit the ChefBilly website!
<![if !vml]><![endif]>


Featured Recipes

 Welcome Inn
Main Dishes . . .
Beef
Also known as New England Boiled Dinner, tender corned beef is simmered with cabbage, potatoes, turnips, parsnips, carrots and onions and is then served with freshly grated horseradish and rye bread.  A traditional Saint Patrick's Day feast for Irish Americans and also for anyone who feels Irish! 
Chicken
A specialty of Cajun cuisine, fresh chicken is cut up and sautéed with ham, sausages, mushrooms, onions and bell peppers, and then is steamed in a casserole of tomatoes, rice and tangy spices.  A great dish for Mardi Gras.
Seafood
Jumbo shrimp are simmered in a spicy tomato sauce and served over rice.  A specialty of New Orleans.
And for dessert, featuring . . .
Cel's Recipe Box
Bar Open
ChefBilly recommends . . .
Fill a tall glass with crushed ice. Add the juice of one orange, the juice of one-quarter lemon, and one and a half ounces brandy. Add one-half ounce of Triple Sec and stir well. Float one-half ounce Galliano liqueur on top and serve with a sprig of fresh mint. A ChefBilly original.
2 ounces brandy (E&J or Christian Brothers), 1 ounce each sweet and dry vermouth (Gallo), dash of Angostura bitters. Pour over ice in chilled Old Fashioned glass, stir well and serve. This is ChefBilly's all-time favorite cocktail!
You don't hear of these too much anymore. When I ordered one in Scotland, the bartender sniffed and said, "How can you ruin that beautiful Scotch?" It was my father's favorite drink, and like him, Scottish and American.
2 ounces Scotch whiskey (Stewart's, Clan MacGregor, or Haig), 1 ounce each sweet and dry vermouth (Gallo), dash of Angostura bitters. Pour over ice in chilled Old Fashioned glass, stir well and serve.
2 ounces bourbon whiskey (Jim Beam, Jack Daniel's), 2 ounces sweet vermouth (Martini & Rossi), dash Angostura bitters. Pour over ice in chilled Old Fashioned glass, stir well and serve with maraschino cherry and a little of the cherry juice. Be careful, these are potent!
I served these once at a party in France to people who were used to drinking only wine. They all got drunk.
To serve six: 12 ounces gin (Beefeater, Gordon's), 4 ounces dry vermouth (Martini & Rossi). Stir in a chilled glass pitcher with plenty of ice. Strain into short, stemmed "cocktail" glasses over a stuffed, green olive. Individual serving: 2 ounces gin and a scant ounce of dry vermouth. Note: the "dryness" of the martini is a matter of taste and controversy. The less vermouth used, the drier the martini. I have heard of martinis so dry that the cork from the vermouth was merely dipped into the gin.
2 ounces of your favorite liquor (Scotch, bourbon, brandy, gin, vodka), optional dash of Angostura bitters. Pour over ice in a tall, chilled glass, then top with club soda, seltzer water, ginger ale or your favorite soda. A twist of lemon is nice in this. Important note: do not use "diet" sodas with artificial sweeteners in alcoholic drinks. Artificial sugar gives your drinks a cheap taste.
A drink "straight up" is served without ice and is meant to be sipped slowly and savored. In many countries it is thought that this is the only way to serve fine whiskey, brandy, or vodka. You would not dilute the flavor of fine wine with ice, and neither should you dilute fine liquor. Here is your chance to bring out your best stock and show it off. When a drink is served in this manner, the glass is important. Choose one that is wide enough for the aroma of the drink to waft up. Brandy is often served in a large, warmed snifter. Vodka is always served ice cold. Allow about 2 ounces of liquor per serving.
Something lighter . . .
2 ounces brandy (E&J or Christian Brothers), 2 ounces orange juice, dash of Angostura bitters. Pour into tall glass over crushed ice, stir well and serve. Very refreshing!
In a tall glass, mix the juice of one fresh orange, the juice of one-quarter lemon, and one teaspoon powdered sugar. Add one and three-quarters ounce brandy and one-half ounce Triple Sec. Fill glass with crushed ice and stir well.
You may splurge on your favorite single-malt Scotch for this one. 2 ounces Scotch whiskey (Glenlivet, The Famous Grouse). Pour over ice in chilled Old Fashioned glass, stir well and serve.
A favorite of the ladies, my Aunt Harriet's favorite drink. Pour 2 ounces Cutty Sark Scotch over ice in a chilled Old Fashioned glass with a splash of Club Soda. Cutty has a light, delicate flavor.
2 ounces chilled vodka. Pour over ice in a tall glass and fill with orange juice. Stir well and serve.
Make this in a short glass, because grapefruit juice is so tart. 2 ounces chilled vodka. Pour over crushed ice in an Old Fashioned glass; fill with grapefruit juice. Stir well.
ChefBilly reminds you . . .
Vodka should always be chilled. Store the bottle in the freezer; the alcohol in the vodka will prevent it from actually freezing. Also, handle chilled bottles with care, for they sweat and get very slippery.
"Shaken, not stirred . . ."
insisted James Bond. Any non-carbonated drink may be made in a cocktail shaker, which provides a fancy presentation. It is also a matter of taste: cocktails shaken with ice will be colder and more diluted. To concentrate the flavor, strain shaken drinks into chilled glasses with little or no ice. Whether shaken or stirred, thorough mixing is essential to a delicious cocktail.
2 ounces each sweet and dry vermouth (Gallo, Martini & Rossi). Pour into chilled Old Fashioned glass over plenty of ice and stir well. Rub a zest of lemon all around the rim of the glass and toss it in. The lemon is important: it greatly enhances the flavor of the vermouth. This is a delicious drink, a ChefBilly classic.
Make Vermouth Evening (above). Float an ounce of gin on top.
.
In France, and in most of Europe, if you order a "martini" you will get Martini & Rossi sweet vermouth over ice. Serve with a zest of lemon in an Old Fashioned glass.
This is a very popular before-dinner drink in France, where hard liquor is considered too strong to be consumed before a gourmet meal. The milder vermouth cocktail is less likely to dull the palate.
is good in many drinks. To properly make a lemon zest, cut a strip of peel about a quarter inch wide and an inch long from a fresh lemon. To do this, use a small, sharp knife, or a "lemon zester," and cut only the thin yellow outer peel from the lemon; the white rind beneath it is bitter. Twist the zest to release the essential oils; rub the zest all over the rim of the glass and toss the thoroughly bruised zest on top of the ice in the drink. You should smell an appetizing aroma of lemon above the cocktail.
This drink is so delicious that it should be illegal. It used to be.
Lightly mist tall glasses with water and place them in the freezer for at least ten minutes. When you remove them, they should cloud and turn white with frost. Fill with crushed ice. To each, add the juice of half of a fresh lime, a half-teaspoon powdered sugar and two ounces of gin. Stir well. Top with ice-cold tonic water and stir gently. These are a big hit at any party!
Place beer mugs in freezer for at least twenty minutes; when you remove them, they should frost. Fill with your favorite brew. ChefBilly prefers the taste of beer from kegs or bottles; avoid cans. Golden lager is delicious and is best ice cold. You may wish to sample some of the darker varieties slightly chilled or at cool room temperature.
Your beer mug or glass must be scrupulously clean if the beer is to froth properly. If you like lots of foam, pour from high above the glass, but remember, the beer may taste flat underneath. If you like less foam, pour the beer gently down the inside of the tilted glass or mug. If you like no foam at all, lightly salt the glass before pouring. This is for people who enjoy a highly effervescent taste in their beer, which is similar to drinking beer directly from the bottle.
Ice in beer?
Is not as strange as it may seem. While living in Canada, ChefBilly noticed that many "hosers" like ice in their beer. Ice cuts the heaviness and starchiness of the brew and imparts a refreshing flavor.
As the evening wears on, you may wish to switch to one of the excellent nonalcoholic brews on the market today. They are surprisingly good. Try Sharp's.
ChefBilly reminds you . . .
to drink responsibly. Overindulgence can ruin the party. And never drink and drive.
Champagne was originally discovered by French monks who bottled some wine too early and it continued to ferment. When opened, the bottles "popped" from the buildup of gases inside. The bubbles in the wine are carbon dioxide, a byproduct of fermentation. It is said that the bubbles cause the alcohol to be absorbed more quickly by the body, giving rise to champagne's reputation as "giggle juice".
ChefBilly will not attempt to recommend a particular champagne; the choice of brand is dictated by personal taste and pocketbook. But you do not have to break the bank; relatively inexpensive California or New York State champagnes are very good. Just because one vintage is more expensive than another does not mean that it is better, nor that a person will know the difference. Appreciation of the finest champagnes requires an educated taste. In France, the best champagnes are usually considered to have a light, dry, and fruity flavor. The wine to serve is the wine you like; choose a favorite and tell your guests why.
Champagne must be thoroughly chilled, at least a day in advance of the party. Place chilled bottles of champagne in silver buckets of ice for an elegant presentation. To uncork, remove any plastic stripping from around the cork and the neck of the bottle, and then wrap the top of the bottle loosely with a thin towel. Pointing the bottle away from your face, use your thumbs to apply pressure and counter-pressure to either side of the cork. It will gradually loosen and pop out. Keep a glass handy in case the wine overflows. And the towel is important: it keeps the cork from sailing across the room. I once saw a champagne cork blast off and shatter a crystal chandelier, sending glass down onto the table below and all over everyone's dinner.
Today, the familiar champagne glass is tall, narrow, and tulip-shaped, permitting full view of the bubbles as they dance their way from the bottom to the top. But years ago, champagne glasses had wide and shallow saucers on long stems, allowing the aroma and bubbles to burst up to the face. My mother has an old collection of these, made from ornate crystal etched in intricate patterns. The oldest and most interesting have hollow stems, which show off the champagne bubbles as they rise from the narrow base to the wide rim. If you are lucky enough to have old glasses like these, they truly add to the glamour of the champagne cocktail. And always make sure that the glasses are well chilled!
Decades ago, it seemed that every party was like Frank and Dean's at the Sands Hotel. Not so today! You don't have to have liquor to have fun. So for the happy peppy people who don't imbibe . . .
ChefBilly recommends . . .
Fill a tall glass with ice, then halfway with orange juice. Top with "Sprite" soda pop and a twist of lime. This is ChefBilly's favorite nonalcoholic cocktail. The combination of the orange with lemon-lime soda makes it very light and refreshing.
Cola is now "more American than apple pie"; its sweet and unique flavor is enjoyed by almost everyone. I hardly know a crowd of youngsters who do not live on it. Always keep some on hand; stock up when it's on sale. I find the "diet" variety even more light and refreshing than the classic. Sugar-free is also guilt-free.
Best served in a tall glass with plenty of ice. Hint: a squeeze of lime is delicious in cola and lends a more "adult" taste.
ChefBilly recommends that ice be freshly made from good-tasting water. Ice that has been sitting in the freezer too long can pick up refrigerator odors and flavors such as cucumbers, garlic and onions. If your tap water tastes like well water or chlorine, make your ice from distilled or bottled water. Distilled water makes beautiful, crystal-clear cubes. Drinks taste best without a dash of sulfur.
Large ice cubes last longer and dilute drinks less than small ones. ChefBilly's pet peeve: automatic icemakers that produce small cubes with holes in them. They can turn good drinks into watery ones in a few minutes.
For a novelty, try making ice from fruit juice and serving with soda.
For this you will need an electric juicer that grind fruits and vegetables and extracts the juice by centrifugal force. Many food processors have such attachments. Clean but do not peel a bunch of fresh carrots and pass them through. You will be surprised how much juice you get and how sweet and delicious it is. Chill and serve in small glasses. Fresh carrot juice is so good that you may want to savor it without ice. Added benefit: this drink is packed with vitamins and carotene, which contribute to good health.
ChefBilly says . . .
While most wine is made from a single fruit--the grape--a vastly greater variety of flavors exists in the natural world of fruit and vegetable juices. Apples, oranges, grapefruit, mangoes, and countless others provide us with ever-changing symphonies of taste. Experiment with your favorite kinds and combinations. Take note of how natural juices make you feel, the boost in energy, the improvement in health. An electric juicer may be the best investment you ever make: it could change your life.
Today, many people do not know that old recipes for lemonade call for boiling, which produces a richer and more interesting flavor. Combine two cups water and one cup sugar and boil for about ten minutes. Remove from heat and add about one-half cup freshly squeezed lemon juice with pulp (no seeds). Chill. To serve, pour over ice in tall glasses (strain if you do not like pulp) and dilute to taste with cold water or club soda.
Note: this method is also a convenience, because the lemon "syrup" may be made in advance, kept in the refrigerator and used as needed.
Make like lemonade, substituting freshly squeezed orange juice for the lemon. Or, for a very bright flavor, use one-third cup frozen orange juice concentrate in place of the fresh juice. If you like a tart taste, try combining orange and lemon, or adding pineapple juice.
Fruit Nectars
Apricot, peach, and mango nectars are available canned and make delicious cocktails any time of the day. Chill well and serve without ice in small glasses. For a great smoothie, liquefy half a banana with a cup of your favorite nectar in a blender.
Welcome Inn
Bienvenue . . .
The Chef is In . . .
No day is ever the same at ChefBilly's, and what better time for a party than chilly midwinter, on the day when the groundhog offers the first hope of spring (if he doesn't see his shadow).
It is fitting, then, that we celebrate the hog.
For the beginning cook . . .
ChefBilly has told me that there is no better recipe for the beginning cook than baked ham. Ham is easy to make, nearly foolproof, and almost everyone likes it, the perfect choice for the beginner's company meal. Ham is appropriate for any holiday, any occasion, be it birthday, graduation, Christmas, Easter, or the 4th of July. Ham is versatile, can be eaten for breakfast, lunch, or dinner, and lends itself to countless recipes for leftovers. Sometimes called "the refrigerator friend," ham is often kept on hand to give wonderful flavor and aroma to soups, stews, and casseroles. For large gatherings, no matter what else is served, ham always finds its way to ChefBilly's buffet table. He believes it is the first company feast he learned to cook.
A child could do it . . .
A NOTE ON HAMS: Hams come in a wide variety of sizes and types, and usually have been smoked or cured. This means that they are already fully or partially cooked. Carefully follow the label instructions for storage and heating. Some dry-cured, "country" hams and small canned hams require no refrigeration, but most smoked hams and large canned hams should be kept in your refrigerator after you buy them.
A curious thing for the uninitiated is that you will see big, smoked hams in the market that say "Fully Cooked" on the label, yet you must bake them for hours in order to make them edible. I knew a bachelor who bought such a ham and tried to slice it, unheated, for lunch, and nearly broke his wrist. It would be much like trying to slice granite. Once baked, however, such hams become tender and slice easily whether hot or cold. Canned hams are usually ready to eat and can be chilled and sliced straight from the tin. Check the label instructions. Although canned hams can also be heated and served warm for dinner, a word of warning: canned hams quickly lose moisture when baked. If overheated, they can become dry and excessively salty. For your company dinner, canned ham will do in a pinch, but a whole or half smoked ham with bone in is much the best choice.
Watch also for what are called "dry-cured" or country hams. These are very good, but require an involved boiling and baking process that may not be suitable for the beginner. Such hams are richer and saltier than regular hams and, say some, are an acquired taste.
ChefBilly's recipes are meant to offer tips and suggestions he has gained from experience.
Spiral-sliced hams, available from most butchers and supermarkets, are an excellent choice for a party. These are whole or half smoked hams with bone in that have been mechanically pre-sliced, yet hold together for baking. These hams are simple to make, and usually come with a glaze that is brushed on during the last hour or so of cooking. To serve, just cut the pre-sliced pieces where they join at the center, and put the slices onto a warm platter.
An eight-pound half ham will serve eight people generously and provide you with leftovers.
METHOD: follow package instructions. Remember that the ham is, usually, already cooked. Your main goal is to heat it through without drying it out. If it is a half ham, ChefBilly likes to place it cut side down on a piece of parchment paper in a roasting pan to hold in the juices. Choose a pan that is slightly larger than the ham, no more; too big a pan can contribute to the ham's drying out. Cover the pan with heavy-duty aluminum foil and seal tightly around the edges. Preheat oven to 325°F (unless your instructions suggest a different temperature). Position oven rack near the bottom. For an eight-pound ham, bake for one hour, then remove from oven and take off the foil.
You will notice a fair bit of ham juices in the pan. Remove these to a heatproof container and reserve. They are too salty to use as a sauce, but can be used in small quantities to flavor soup, gravies, and stews. Stir into scrambled eggs before cooking for a delicious flavor. Refrigerated, ham juices turn into a beautiful, clear, fat-free gelatin that will keep for weeks. Use in place of salt.
If your ham came with a glaze, prepare it according to package directions before removing the ham from the oven. If the directions call for liquid to make the glaze, use apple juice, orange juice, or beer instead of plain water. And don't make the glaze too far in advance, or it may thicken excessively. If this happens, heat gently and add more liquid. Glaze should have the consistency of thick honey. Brush the glaze all over the exposed surface of the ham. If your ham did not come with a glaze, pack dark brown sugar all over the ham, carefully using your hands or a large spoon. Use as much sugar as you need to cover the surface of the ham about one-eighth inch, and pour a half-cup of fruit juice into the pan to keep the sugar from burning.
Insert a meat thermometer into the thickest part of the meat and return the ham, uncovered, to the oven. Bake about one more hour, brushing with additional glaze once or twice. Check the thermometer carefully. Do not let it exceed the recommended temperature for doneness according to package directions. If your ham came fully cooked (which most spiral-sliced hams do), this is 140°F. If the ham came "partially cooked," it should be baked to an internal temperature of 160°F to completely cook the meat.
Hint: many packaged hams instruct you to bake them longer than necessary. Fifteen minutes per pound, or two hours total for an eight-pound ham, is usually more than enough. Check the thermometer: it is your final judge of doneness. Overcooking will dry out your ham, which is the worst thing that could happen in this recipe.
Place your finished ham on a beautiful platter, spooning a little of the pan drippings over the top. For an attractive presentation, garnish with Romaine lettuce leaves. Then parade your beautiful ham, glistening with its golden glaze, in front of your guests, and carve at the table. And smile with pride . . .
Your first ChefBilly recipe has already made you great!
Suggested accompaniments: niblets corn or corn on the cob, Giant Potato Pancake, and ChefBilly's Candied Sweet Potatoes.
Beverages: Beer, hard cider or apple cider. A sweet port wine would be excellent against the saltiness of the ham.
Men love ham. Perfect for Super Bowl Sunday!
And try the following sweet sauce on your baked ham or leftover ham slices.  NEW from ChefBilly . . .
Recently, ChefBilly ran out of the hog renderin's he usually uses to make gravy, so he grabbed some cans from the root cellar and went to work.  In a few minutes and maybe by accident he came up with the best hog sauce ever!  It is the talk of everyone at the Inn!  Use it on your next baked ham.  G – o – o – o – o – d!
Ingredients:
2 Tablespoons sweet butter
½ cup brown sugar
1 15-ounce can sliced pineapple with juice
½ cup orange juice
2 Tablespoons cornstarch
¼ teaspoon each ground cinnamon and cloves
additional orange juice
Method:
In a medium saucepan, melt butter, add brown sugar and heat over low flame until sugar melts.  When it is bubbly, scatter the pineapple slices on top and gradually stir in the juice until sugar is dissolved and liquid is smooth.  With your spatula, break up the pineapple slices into quarters.  Combine cornstarch, spices and ½ cup orange juice in a small bowl.  Slowly stir into the pineapple mixture until smooth.  Let the sauce come to a gentle simmer; it will become thickened and clear.  Gradually add additional orange juice until sauce is of desired consistency, like thick cream.  You may have to add about ½ to 1 cup more orange juice.
I like to reheat leftover ham slices right in the sauce.  If you have some jellied juices from your baked ham, add about ¼ cup of them to the sauce, too, for additional flavor.
SERVES 4-6 as a sauce for ham or roast pork.  This simple sauce has an unforgettable flavor!
--ChefBilly
We sing the whole, smoked ham. There are as many kinds as aged, fine wines, with as many subtle nuances, from as many rare and far-off farms as vineyards are they found. The true ham lover may spend a lifetime deciding upon his favorite, and the purist will insist that it be whole, bone in, uncut, and glorious.
If you are ready to try to bake a whole ham, it is little more involved than the half, spiral-sliced ham, above. But be forewarned that a whole ham may weigh fifteen pounds or more and will require considerable investment of money. Also, unless you are serving a crowd, you may have more leftovers than you can handle. A whole ham this size should serve at least twenty people.
Prepare:
ChefBilly's Glorious Ham Glaze
Mix together one cup dark brown sugar, two teaspoons Coleman's mustard, and one-half teaspoon each ground cinnamon and cloves. Over low heat, add about a quarter cup of apple, orange, or pineapple juice to get a spreadable consistency.
Place the ham fatty side up in a shallow roasting pan and stud with whole cloves, if desired. Bake uncovered at 325°F to an internal temperature of 140°F for a fully precooked ham, about ten to twelve minutes to the pound. Partially precooked hams will require longer baking to a temperature of 160°F. Watch the temperature carefully. About one hour before the end of the estimated roasting time, drain most of the juice from the pan and score the top of the ham in a grid pattern using a small, sharp knife. Spread with ChefBilly's Glorious Ham Glaze, or pack with dark brown sugar. Return to oven. When the ham is done, let it rest at least fifteen or twenty minutes before carving.
Ahead of time note: a ham this size will keep warm for two hours covered loosely with aluminum foil and kept in the turned-off oven.
By now, your house should smell glorious and every dog in the neighborhood should be barking. Serve your ham to your glorious guests with plenty of warm biscuits, horseradish, and rye bread. Other suggestions: ChefBilly's South of the Border Corn, or ChefBilly Succotash.
And take a bow . . .
Don't throw away that ham bone! ChefBilly would throw a fit!
When you get near the end of the ham, the dried-up ham bone and meat can still turn into something succulent. Get yourself a bag of Jack Rabbit yellow split peas and follow the instructions on the bag for Split Pea Soup. Your leftover scraps will make the best soup imaginable.
ChefBilly's Candied Sweet Potatoes
This is the stuff dreams are made of . . .
People have traveled to the Inn just for these. Peel about three pounds of sweet potatoes and cut into three-inch chunks. Place in a large, heavy pot and cover with one cup white sugar. Add boiling water to within three-quarters of the top of the potatoes. Cover and boil gently until the potatoes are fork-tender but not mushy, about twenty minutes. Drain.
Spread the hot sweet potatoes in one layer in a large, deep, buttered skillet and let cool. Dot with one stick (one-quarter pound) sweet, unsalted butter and sprinkle with one cup light brown sugar. Drizzle with one-quarter cup dark corn syrup and one-quarter cup maple syrup.
Shortly before serving, place the skillet over low heat. As the butter and sugar melt, gently turn the potatoes to coat. Keep the potatoes in whole pieces; do not break them up into mush. When the syrup begins to bubble and caramelize and the sweet potatoes are heated through, serve.
Children love these mashed on their plates.
SERVES 8 generously.
ChefBilly's South of the Border Corn
Delicious with ham.
Chop: 1 medium onion, 1 medium green bell pepper, and 1 medium red bell pepper. If you like a hot taste, finely chop 1 Jalapeno pepper too.
Gently sauté these vegetable in 1 teaspoon each butter and olive oil until almost tender, about 10 minutes.
Add: 1 16-ounce package frozen kernel corn (or an equal amount of drained, canned corn), 1 8-ounce can tomato sauce, 1 teaspoon mild chili powder, and a half teaspoon Worcestershire sauce. Cover and simmer until corn is tender to your liking, about five minutes.
Smokin' Hot South of the Border Corn: If you like it hot, use more Jalapeno, hot chili powder, and add a teaspoon or more Tabasco sauce. Wow!
ChefBilly reminds you . . .
Always be kind to someone who is in charge of your food.
In deep saucepan, cover 16 ounces frozen baby lima beans with boiling water. Return to boil, cover saucepan, and simmer gently until beans are very tender, about 20 minutes. Watch the pot: lima beans produce a "slime" which boils over easily. Lower temperature as needed. If water boils away, add more boiling water, making sure to keep the beans covered with water until done.
Drain. Add 16 ounces frozen kernel corn (or drained canned corn), and pour in 1½ cups milk or cream. Return to simmer. Continue to cook very gently, stirring occasionally, until the corn is tender and the milk or cream is mostly absorbed into the lima beans, about 10 more minutes. Season with ½ tsp. white pepper. Just before serving, add 2 Tbsp butter and 3 slices American cheese. Fold the melting cheese into the succotash.
SERVES 8.
It is a big help if you use a food processor for this one.
Coarsely grate: peeled Idaho potatoes to make 6 cups. Place in a large colander or strainer and press down to extract excess water. Work quickly, before potatoes discolor.
Heat a large, 12-inch heavy-bottom or cast iron skillet on top of the stove. It helps to use one that can later go into an oven. Coat the bottom with ¼ cup canola oil and continue to heat until almost smoking. Add potatoes, pressing down to make a firm layer covering the entire bottom of the pan.
Cook over medium high heat until this giant "pancake" has browned well on the bottom. Do not attempt to turn it or disturb it before it has browned or it may stick and fall apart. Hint: when the edges look crusty brown and begin to pull away from the sides of the pan, the potatoes are usually ready to turn.
Method: shake the skillet and loosen the pancake with a spatula. When it is moving and is definitely free from the bottom, flip it over, being careful not to splash hot oil on yourself. A safe method is to slide the pancake onto a pizza pan, invert another pizza pan over it, and turn both pizza pans over. Then slide the turned pancake back into the hot skillet.
Brown well on the second side, adding more canola oil if the pan seems dry. The finished pancake should be crisp on the outside, incredibly moist and tender on the inside. May be kept warm in the oven. Sprinkle generously with salt before serving.
The whole pancake makes a glorious presentation with ham. To serve, cut the potato pancake into wedges like a pizza. (Remedy for disaster: if the pancake falls apart while you are trying to turn it, finish off frying the pieces separately and they are still very good. Serve like individual pancakes and act like they were meant to be that way. --ChefBilly)
ChefBilly's Famous Creamed Spinach
Even children love spinach prepared this way.
Have ready: 16 ounces (1 LB) frozen chopped spinach, cooked according to package directions and well drained.
Finely chop: 1 medium onion.
In a large skillet, gently sauté the onion in 1 Tbsp each of butter and olive oil until tender but not brown, about five minutes.
Add: 3 Tbsp flour. Stirring constantly, continue to fry the mixture over low heat until the flour is very lightly browned, about 1 minute.
Blend in: ½ cup milk and stir until slightly thickened. Stir in the spinach.
Fold in: 1 cup sour cream.
Season with: ½ tsp white pepper and ¼ tsp nutmeg (preferably freshly ground).
Optional: add 1 Tbsp dried dill or ¼ cup finely chopped fresh dill for a Mediterranean flavor.
Heat through but do not overcook at this point or the sauce may scorch or curdle. The sauce should be thick, creamy and slightly runny.
SERVES 6 as a hot vegetable.
Nutmeg is a great kitchen companion and is easily grated fresh. Simply take a whole nutmeg clove and rub it briskly on the fine edge of a cheese grater. Or, use a small, special "nutmeg grater" available in many specialty shops. No need to even wash the grater afterwards. Because nutmeg goes with almost anything, it does not matter if any leftover grains fall off into something else. You can grate a quarter teaspoon or more of fresh nutmeg in a matter of seconds.
Freshly ground nutmeg is much preferable to the canned. It gives incomparable flavor to white sauces and to dishes made with ground meat. Nutmeg is the secret ingredient of many Italian sauces. In a traditional Italian home, you will find whole nutmeg cloves on the cupboard shelves ready to grab and use. They are said to bring good luck.
Mushrooms and spinach are a classic combination.
Prepare Creamed Spinach, above, but after frying the onions add:
½ LB sliced fresh mushrooms and an additional 1 Tbsp butter.Raise the heat to medium and fry the onion-mushroom mixture until the mushrooms begin to brown and exude their juice, about 3-4 minutes.
Clear a space in the middle of the pan by scraping the vegetables to the sides. Add another 1 Tbsp butter and begin frying the flour in the clear area. As it begins to brown add the milk, stir in the vegetables and proceed with the recipe.
Easy Creamed Spinach and Mushrooms: Simply add a can of sliced mushrooms, drained, to the Creamed Spinach recipe above. Fold in the mushrooms with the sour cream and heat through. The canned mushrooms are, in fact, surprisingly good.
Creamed Spinach with Mushrooms and Cheese
A hearty main course for a vegetarian meal.
Prepare Creamed Spinach and Mushrooms, above, adding ½ LB crumbled feta cheese at the end. Warm through until the cheese just begins to melt. You may substitute Swiss, which is also delicious with spinach.
Good served over toast or garlic bread.
Prepare Creamed Spinach (without the mushrooms), above, seasoning with 2 Tbsp dried dill. Fold in ½ LB crumbled feta cheese and ½ LB (8 oz) creamed cottage cheese. Let the mixture cool to room temperature and fold in 2 beaten eggs.
Prepare a partially baked 10-inch Crisco pie shell according to instructions on Crisco can (or use prepared pie shell of your choice). Fill with the spinach mixture and bake at 375°F for about 30 minutes, or until piecrust is golden brown and filling has set. NOTE: the filling, even when set, will be sticky.
You may have enough filling left for another small pie. The filling is also delicious stuffed in phyllo (filo) pastry, which may be purchased frozen and has instructions on the box for stuffing and baking.
Superb!
Coming soon: ChefBilly's incredible recipe for deep-dish Greek spinach pie.
A few suggestions for leftover ham:
Cut 8 thick slices from a baked ham, about 4-oz each. Fry the slices gently in 1 Tbsp each butter and olive oil until very lightly browned on each side. Arrange eight slices of buttered toast in a single layer in a lightly buttered, shallow baking dish. Top each slice with a piece of the fried ham and about ¼ cup of warm Creamed Spinach or Creamed Spinach with Mushrooms (recipes above). Place a thin slice of Swiss Lorraine or Mozzarella cheese over each piece.
Place the baking dish a few inches beneath a 400°F broiler for a few minutes, until the cheese is melted and bubbly. Serve at once.
SERVES 8. Good with beer. Excellent for company lunch.
Jambon au Porto
When ChefBilly was in France, he noticed this dish frequently on the menus. He has approximated the flavor in this surprisingly simple recipe. Great for lovers of port wine:
Put 2 Tbsp arrowroot or cornstarch in a measuring cup. (Arrowroot gives a clearer sauce.) Gradually fill to the 1-cup mark with good port wine, stirring to make smooth. Set aside.Cut 8 thick slices from a baked ham, about 4-oz each (or use ham steaks). Gently sauté them in 1 Tbsp each butter and olive oil until lightly browned on each side. Pour in 1 cup of good canned beef consommé (Campbell's is fine). Bring to a simmer, then slowly add the port mixture, stirring to make a smooth, thickened sauce. Don't add the port mixture too quickly or it may lump.
Simmer a minute or so, thinning with more beef consommé if the sauce seems too thick. Optional touch: 1 cup of peeled orange segments may be added at the end.
This tastes as good as some recipes that use involved, deglazed sauce bases. Serve with Giant Potato Pancake (recipe above) or with rice. Serves 8.
Prepare the recipe for Ham with Port Wine, above, substituting orange juice for all or part of the port wine. This makes a very delicious sauce even without the use of wine.
Ham Slices with Port and Cream
For people who prefer a creamy sauce:
Prepare Ham with Port Wine, above. Increase the amount of arrowroot or cornstarch to 3 Tbsp. Add one cup of cream or half-and-half with the port wine at the end and heat and stir until thickened. Season with ¼ tsp black pepper. You may also add a can of sliced canned mushrooms (drained) or some previously sautéed fresh mushrooms with their juice. Omit orange segments.
You will have lots of creamy, delicious wine sauce to serve over boiled potatoes or rice.
Ham with Onions, Mushrooms and Cream
This recipe raises leftover ham to the level of cuisine.
Thinly slice: 1 large onion.
In a large, deep skillet, sauté the onion in 2 Tbsp butter and 1 Tbsp olive oil until tender but not brown, about 10 minutes.
Add: 3 Tbsp flour. Stir and cook over low heat until the flour is slightly brown, about 2 minutes.
Gradually add: 2 cups milk, ½ cup canned beef consommé and ½ cup good port wine. Stir until thickened and bubbly. Season with ¼ tsp each black pepper and freshly grated nutmeg.
Stir in: ½ pound or more small, whole, fresh mushrooms. Let them simmer in the sauce a minute or two. Don't worry, they will be cooked.
Add: 8 thick slices of leftover baked ham, ham steaks, or about 3 cups of cubed leftover ham. Heat through.
Serve over crusty French bread in a soup bowl or over toasted English muffins or plain toast. Also good over rice or buttered noodles.
SERVES 8.
Make the above recipe for Ham with Mushrooms, Onions and Cream. Increase the amount of milk to three cups and omit the consommé and the port wine. Season with plenty of nutmeg, to taste.
Line a large, deep, buttered baking dish (about 9 x 13 inches) with buttered toast or noodles. Pour the recipe over all. Sprinkle with ½ pound grated Swiss Lorraine or good Swiss cheese. Dot with 2 Tbsp butter.
Bake at 350°F until cheese is browned and bubbly, about 30 minutes.
SERVES 8. Excellent with spinach on the side.
In the preceding recipes, the beginning cook has already learned some basic cooking techniques, and how complex recipes evolve from simple ones.
ChefBilly reminds you . . .
to taste carefully while cooking. Every good chef tastes his or her creations along the way and carefully corrects for seasoning. Feel free to experiment with spices and amounts. No recipe can anticipate individual preferences. The greatest French chefs have asserted, "To each his own taste."
No recipe can determine exactly how your sauce will turn out. Variables such as the freshness of ingredients, the amount of water exuded from your vegetables, and even the weather can affect the texture of your finished sauce.
TOO THICK? Thin with whatever liquid(s) the recipe calls for, gradually stirring them in. This is also a way to adjust the flavor, by choosing which liquid to add.
TOO THIN? The easiest way to thicken a sauce after it has been cooked is by adding cornstarch that has first been dissolved in a little liquid. Stir in gradually until desired thickness is reached. Chinese chefs often keep a mixture of half water, half cornstarch ready at all times by the stove to finish their sauces.
SALT? ChefBilly always adds salt toward the end and only if it is needed. For example, ham being salty in itself needs little or no additional salt. Taste your sauces carefully and salt to your liking. But remember, once added, the salt cannot be removed. ChefBilly's pet peeve: restaurant chefs and fast food cooks who use far too much salt. Food made from quality, flavorful ingredients does not need to be oversalted. Often, the excessive use of salt is an attempt to improve the flavor of mediocre cooking, a "cheap fix" for a bad meal.
ChefBilly's Sweet and Sour Pork Chops
This recipe evolved from a wonderful Italian dish of sweet and sour onions, which I often matched with grilled meats. Here, the onions and pork chops marry together in a delicious sauce. The vinegar marinates the chops as they simmer, for a moist, fork-tender result, and the blending of brown sugar, garlic and soy lends an unforgettable caramel flavor.
Pork is excellent for any occasion. It is lean, relatively inexpensive, and of consistent quality. This dish of sweet and sour pork chops has become a family favorite. It is easily prepared.
Ingredients:
4 large butterfly or loin pork chops, about ½-inch thick (leave fat on)
2 Tbsp olive oil
2 medium sweet yellow onions, thinly sliced
4 large cloves garlic, coarsely chopped
1 Tbsp white sugar
¼ tsp freshly ground black pepper
¼ cup brown sugar
1 Tbsp Kikkoman (Japanese) soy sauce
¼ cup apple cider vinegar
2 Tbsp dark balsamic vinegar
½ cup apple juice
2 large, firm apples, peeled, cored, and cut into eighths (wedges) (optional)
Method:
Pat chops dry. In a large skillet, fry the chops in the olive oil over medium heat until nicely browned on both sides, about 10 minutes. Remove the chops to a side platter, leaving the fat and browned bits in the skillet. Add onions to the skillet, and when they begin to sizzle, reduce heat to low. Fry gently until they are soft and translucent, about 10 minutes, adding white sugar for the last couple of minutes. Add the garlic and fry 2 minutes more. Do not burn the garlic, or your sauce will taste bitter. Add brown sugar, soy sauce, apple cider vinegar and balsamic vinegar; stir and bring to a simmer. Return chops to pan, sprinkle with pepper, and spoon onions and sauce over the top of the chops. Add apple juice. Cover the skillet tightly and simmer over very low heat for about 1 hour, turning chops twice during this time.
About 20 minutes before end of cooking time, add optional apples and let them simmer with the chops until they are almost tender.
Turn off heat and keep covered until ready to serve. To reheat, just bring back to a gentle simmer.
SERVES 4. Serve with boiled sweet potatoes and steamed cabbage.
Oriental version: Add 1 tsp grated fresh ginger or ½ tsp dry to the sauce and serve with rice.
Orange version: Substitute orange juice for the apple juice and orange for apple segments, adding the orange segments just long enough to heat them through. Thicken the sauce with about ¼ cup orange marmalade
CHEF'S TIP: The combination of brown sugar, soy sauce and garlic adds a unique and interesting flavor and is the professional secret of many "gourmet" sauces. Experiment with this combination in your own cooking! Especially good with mushrooms sautéed in butter and in oriental recipes.
What we call "Mardi Gras" in the United States is also known as "Carnival" in much of the world, from the colorful and famous Carnival of Brazil to the lesser known but very exciting "Winter Carnival" of Québec, Canada. All of these involve a period of feasting and celebration prior to Ash Wednesday, the beginning of the Lenten fast. "Mardi Gras" is French for "Fat Tuesday," in reference to the last day of feasting before Lent. "Lundi Gras," or Fat Monday, is celebrated the day before Mardi Gras. Carnival roughly coincides with celebrations that were held in Ancient Rome at the end of their calendar year in February. In ancient times, the last two weeks in February were a long "New Year's Eve" preceding their New Year on March 1st. Did you ever wonder why February is the shortest month? Because it was once the last month of the year, and they ran out of days.
ChefBilly presents some recipes in keeping with these celebrations.
Reaction to the first ChefBilly website has centered on the cocktails. So by popular demand, here are some drinks that really perk the appetite:
ChefBilly's simple Bloody Mary (no need for a mix):
2 oz vodka, 4 oz tomato juice, 1 tsp freshly squeezed lemon juice, ¼ tsp Worcestershire sauce, dash Tabasco sauce. Put in a cocktail shaker with ice and shake well. Strain into a large Old Fashioned glass and serve with a small wedge of lemon and a short celery stick. These are very appetizing.
Nonalcoholic version: substitute more tomato juice for the vodka. Very delicious. In fact, ChefBilly prefers it.
Chill a cocktail glass well. Combine in a cocktail shaker: 1 tsp powdered sugar, the juice of ½ lemon (strained), ½ raw egg white, 2 oz bourbon. Shake with plenty of ice and strain into the cocktail glass. Decorate with a cherry and a slice of orange.
For my friend Al:
Cosmopolitan and dry:
Keep a large cocktail glass in the freezer. Chill all ingredients: 3 oz gin, ½ oz dry vermouth. Shake with ice and strain into the frozen glass. Serve with a large zest of lemon. May also be served "on the rocks", over ice, in a chilled Old Fashioned glass. Wow!
Add a couple of pearl onions to the finished "Altini," above.
For lovers of Tequila:
Substitute your favorite Tequila for the gin in the "Altini", above. Serve with a green olive.
Freeze a large cocktail glass. Dip the rim of the glass into freshly squeezed lime juice and then roll the outside of the rim in salt, coating it well.
In a cocktail shaker, combine: 2 oz Tequila, 2 oz Cointreau or Triple Sec, 2 oz freshly squeezed lime juice, ½ tsp powdered sugar. Shake with ice and strain into the salt-rimmed glass.
Shake with ice: 2 oz vodka, 1 tsp powdered sugar, 1 oz freshly squeezed lime juice. Strain into a chilled cocktail glass. Also good in a tall glass over crushed ice.
These are traditionally made in a silver mug, but you may substitute a large Old Fashioned glass. Chill well.
Muddle in the chilled vessel: 4 sprigs of fresh mint, 1 tsp powdered sugar, 1 Tbsp water. Fill with crushed ice and add: 3 oz Jack Daniel's Kentucky whiskey.
Stir vigorously, allowing the glass to frost. Serve with a straw and more sprigs of fresh mint on top.
Some recipes inspired by the spicy city of New Orleans.
Prepare about 3 pounds of fresh mussels for cooking. Fill your clean sink with cold water and dump the mussels in. Let soak for a few minutes. Quickly scrub each mussel with a vegetable brush. Throw away any that are wide open (they are probably dead) or that feel very heavy (loaded with sand). If any stringy "beard" is still attached to the shells, scrape it off with a sharp knife. Toss mussels as they are cleaned into a colander and rinse again. If you see sand in your sink, soak and rinse the mussels again until they are sand-free.
In a large, deep skillet or casserole that has a lid, sauté 1 finely chopped onion in 1 Tbsp each butter and olive oil until almost tender, about 5 minutes. Add about 4 cloves of chopped garlic and continue to sauté gently about 2 more minutes. Do NOT EVER brown garlic or it will taste bitter.
Add: 1 16-oz can of chopped tomatoes with juice (Hunt's brand is very good) and 8 oz tomato sauce. Very good but optional: add ½-cup dry white wine. Bring sauce to a boil. Season with ½ tsp black pepper and 1 tsp dried basil (or 1 Tbsp chopped fresh basil). Add the mussels. Cover tightly and let steam over medium heat. You may shake the pan from time to time but do not open or you will let the steam out and frustrate the cooking process. After five minutes, take a peek; when mussels have opened up they are done. Cooking should take less than ten minutes. It is very important not to overcook mussels or they will become tough.
Remove the mussels with a slotted spoon to a large serving bowl. Let the sauce settle a moment, then gently pour it into another saucepan. Watch carefully; if there is any sand left from the mussels it will be in the bottom of the pan. Stop pouring when you see sand and it will not go into your finished sauce.
Quickly reheat the finished sauce and add 1 Tbsp butter. Taste for seasoning. You may want to add more pepper, or some Tabasco sauce if you like it hot.
Serve the mussels over rice or pasta, spooning some sauce over each portion. You will find that the sauce has an absolutely delicious seafood flavor. Very good with Angel Hair noodles. For a complete meal, serve with fish that may be steamed in the same sauce in which you made the mussels. Superb. Good with salad on the side.
SERVES 4 GENEROUSLY.
The taste of the ocean . . .
--ChefBilly
A hallmark of good cooking is simplicity, the natural taste of quality ingredients. This simple recipe is one of my favorite ways to prepare shellfish.
--ChefBilly
Briefly rinse 1-1½ pounds large, fresh, raw shrimp in their shells. Drain and set aside.
In a large, deep skillet or casserole that has a lid, sauté 1 finely chopped onion in 1 Tbsp each butter and olive oil until almost tender, about 5 minutes. Add about 4 cloves of chopped garlic and continue to sauté gently about 2 more minutes. Do NOT EVER brown garlic or it will taste bitter.
Add: 1 16-oz can of chopped tomatoes with juice (Hunt's brand is very good) and 8 oz tomato sauce. Very good but optional: add ½ cup dry white wine. Bring sauce to a boil. Season with ½ tsp black pepper and 1 tsp dried basil (or 1 Tbsp chopped fresh basil). In a separate skillet, melt 1 Tbsp butter in 1 Tbsp olive oil over medium-high heat. When the butter is bubbling, toss in the shrimp. (You may wish to do this in front of your guests, with a flourish.) Toss the shrimp around and fry until the shells begin to turn pink, about two minutes. Then scrape all of the shrimps with their butter and oil into the tomato sauce.
Bring to a simmer. Cover and let bubble gently about 5 more minutes. DO NOT OVERCOOK or shrimp will lose their fresh flavor and tender texture. They may, however, be left covered on the turned-off burner to keep warm.
Serve over rice or pasta. Very good with hot French bread. To eat the shrimps, crack each back, pull off the legs, and then pull the meat from the shells with your fingers. Use plenty of napkins.
Admittedly very messy, but delicious. You may make the recipe with shelled or tail-on shrimp, but it is the shells that give the sauce its wonderful seafood flavor. (Some chefs shell their own raw shrimp, then simmer the shells in the sauce separately and strain them out. But this is a lot of work.) --ChefBilly
SERVES 4.
ChefBilly's pet peeve: recipes that tell you to cook shrimp too long. "I have seen recipes for shrimp gumbo that tell you to cook them for two hours or more," said ChefBilly, waving a spatula. "By then, if they have not disappeared, the shrimp will have lost all the soft texture and elusive sweetness that make fresh shrimp a rare treat."
ChefBilly's gettin' mad!
More recipes from New Orleans:
When I was in graduate school, every February my French Canadian friends would talk some of us "Yanks" into going to Winter Carnival in Québec. I will always remember the drive through the rolling countryside north of New England, seeing the church steeples rise from small, French Canadian villages nestled in snowy valleys. Winter Carnival, held yearly before Lent, features hockey, skiing, tobogganing, and festivals with food, drinking, dancing and entertainment. In the wintry evenings we often enjoyed a specialty of Québec, pork pie, with some wonderful Canadian beer. The following recipe reminds me of those carefree times.
In a saucepan, gently sauté 1 chopped, medium onion in 1 Tbsp butter and 1 tsp olive oil until soft but not brown, about 5 minutes. Add one clove finely chopped garlic and sauté 2 minutes more.
Add 1½ pounds of lean, ground pork. Stir and fry gently until it turns white, about 5 minutes. Season with: 1 tsp salt, ½ tsp pepper, ¼ tsp freshly ground nutmeg, ¼ tsp mace, and ¼ tsp cayenne pepper.
Gradually add: 1½ cups chicken stock into which 1½ Tbsp cornstarch has been dissolved. Stir and simmer gently about 5 more minutes until thickened.
Prepare one recipe Crisco crust for a two-crust pie (or use a pie crust recipe of your choice). Line an 8-inch pie pan with half the dough, fill with the pork mixture (let it cool a bit first), and top with the rest of the pie dough. Crimp edges and poke air vents in the top of the pie.
Bake at 425°F in the middle of a preheated oven about 30 minutes, until the pie is golden brown. Let cool 15 or 20 minutes before slicing, but serve warm.
Tourtière is traditionally served with chow chow, a tomato-pepper preserve (hard to find in U.S.). Also good with catsup or mango chutney. Serve with premium Canadian beer. I highly recommend Molson's Extra Stock if you can find it. If not, ask a Canadian friend to bring some across the border.
Tourtière is also good made with half beef and half pork, or with pork sausage substituted for some of the pork, but this is not traditional. –ChefBilly
You say it's your birthday?
Birthdays are a time for unique celebration, because they are the holiday especially meant for YOU!
Birthdays bring back warm and happy memories of childhood. For me, one of those memories is the chocolate cake that follows. Yes, here it is by popular demand, the ULTIMATE CHOCOLATE-LOVER'S CAKE, rich, moist, velvety, loaded with dark chocolate flavor!
No one is quite sure where this recipe came from, although it has been a family favorite for generations. It was originally handed down by my Grandmother Jean Gordon McDonald, who was from Scotland, and truly knew good baking. But the recipe goes back even further than that, perhaps originating, it is said, with a pastry chef who worked in one of the great mansions of Lake Forest, Illinois.
Quick, easy, and inexpensive to prepare, the recipe reflects the thrift of the Depression-era 1930s. But do not let the economy of this cake fool you: anyone who has ever tasted it returns to this recipe again and again, as I hope you will. It is a birthday favorite.
We call it:
Ingredients:
½ cup Crisco1½ cups sugar2 squares Baker's unsweetened chocolate (2 ounces)2 eggs, well beaten1 3/4 cups sifted cake flour½ tsp salt1 tsp baking soda
1 cup milk
1 tsp vanilla
Method:
1) Melt chocolate over hot water in a double boiler.
2) Cream Crisco with a large mixing spoon and gradually add sugar.
3) Add well-beaten eggs and melted chocolate.
4) Sift flour, salt, and baking soda together three times. Add alternately to creamed mixture with milk. Add vanilla at the end.
5) Bake in moderate oven (350°F) for 40 minutes. You may bake this cake as two round 9-inch layers or in one square 10 by 10-inch pan.
6) Test with a toothpick inserted into the center of the cake. When the toothpick comes out clean, the cake is done.
FROST with a white butter-cream or recipe of your choice, or for the ULTIMATE CHOCOLATE-LOVER, we recommend the following:
Traditionally used on McDonald's Chocolate Cake.1) Melt 4 squares (4 ounces) Baker's unsweetened chocolate and 3 Tbsp butter over hot water in a double boiler. Cool to tepid.2) Measure into a large mixing bowl: 3 cups sifted powdered sugar, 1/8 tsp salt, 7 Tbsp milk and 1 tsp vanilla. Beat with electric mixer until fluffy. Add cooled chocolate mixture and beat again until smooth. Let stand, stirring occasionally, until the right consistency to spread.
DELICIOUS!
SERVE McDonald's Chocolate Cake for your birthday with a scoop of vanilla ice cream. And for the ULTIMATE, ULTIMATE CHOCOLATE-LOVER, my Grandmother Jean used to (believe it or not) ladle each piece of cake with homemade chocolate sauce. I believe she used the recipe on the Hershey's cocoa box, which has a wonderful cocoa flavor.
But I prefer white cake . . .
Well here it is, the counterpart to McDonald's Chocolate Cake, my Grandmother Jean's White Cake. This is another recipe rumored to have originated in the mansions of Lake Forest, where a hostess insisted upon a cake that was not only beautiful but had wonderful flavor for her daughter's wedding. My grandmother described this cake, lavishly decorated with icing and flowers and rising in tiers to the ceiling of an ornate ballroom. Here is the simple "at home" version, which may also be made into cupcakes.
1/3 cup Crisco (or equal parts Crisco and butter)1 cup granulated sugar2 eggs, separated½ cup milk1½ cups cake flour
2¼ tsp baking powder
¼ tsp salt
½ tsp real vanilla (the best you can get)
Cream shortening, add sugar gradually and beat well. Add yolks of eggs (well beaten) and beat again. Add milk, flour, baking powder, salt and vanilla. Beat until light. Whip egg whites to a stiff froth and fold lightly into the batter.
Pour into two, lightly greased, round 9-inch layer pans, or fill greased cupcake tins halfway. Bake in a moderate (350°F) oven 20-25 minutes until toothpick comes out clean. (Cupcakes may take a bit less time.)
For a 10-inch square pan, double the recipe and bake about 40 minutes. For a wedding cake, adjust the amount of batter to fill the number of pans required. Multiple layers should be supported on tiers.
Spread with white buttercream frosting, below.
McDonald's Chocolate Cake is also delicious with white buttercream frosting. In fact, some people prefer it. Following is the recipe we traditionally use, the smoothest, creamiest, richest vanilla frosting we know of. The proportions are similar to those given on the Domino Confectioners Sugar box.
1 pound (1 regular 16-ounce box) Domino Confectioners 10-X (powdered)
sugar
1 stick (¼ pound) soft unsalted butter
1/8 tsp salt
1 tsp real vanilla extract (best quality you can get)
3 or 4 Tbsp milk
Cream 1/3 of the sugar with the butter and salt in a large mixing bowl. Then beat in remaining sugar, 2 Tbsp of the milk and the vanilla extract with an electric mixer. Gradually add enough of the remaining milk to reach a firm but smooth spreading consistency (not all of the milk need be used). HINT: have your bowl, beater, and ingredients chilled. The butter should be soft enough to beat but not too mushy or your frosting will be too soft to spread properly. The finished frosting should cling firmly to a knife without falling off. If frosting is too soft, chill before spreading on the cake.
Yield: enough frosting for 2 9-inch layers or 1 10-inch square cake.
Something lighter . . .
While men are notorious for their love of chocolate, many women prefer a lighter cake. My mother has always enjoyed a light sponge cake with fruit and cream for her birthday. This is one of her favorites:
The one drawback for this cake is that it must be assembled the day it is served, or it will go soggy. You may, of course, make the sponge cake ahead.
Sponge cake:
5 eggs, separated
1½ cups flour
1½ cups sugar
1 tsp grated lemon zest
1 tsp vanilla
Beat egg yolks with sugar until very light and fluffy. Fold in stiffly beaten egg whites alternately with sifted flour. Fold in vanilla and lemon zest. Pour into two buttered and floured 9-inch round pans. Bake at 350°F for 20 minutes, or until toothpick comes out clean. Let cool, remove cake from pans.
Cream filling:
2 cups whipping cream, well chilled
4 Tbsp powdered sugar
1 tsp vanilla
1 tsp unflavored gelatin
2 Tbsp cold water
In a teacup, soak the gelatin in water 5 minutes without stirring. Then place the cup in some simmering water until the gelatin is dissolved and the liquid is clear. Set the cup of gelatin aside and let cool to room temperature, but do not chill.
In an electric mixture, whip the cream in a large bowl until soft peaks form. (It helps to have your bowl and beaters well chilled.) Continue beating, adding the gelatin mixture and then the sugar and vanilla, and beat until stiff. The finished mixture should cling to a spoon without falling off easily.
Assembly:
1 pint fresh, shapely, whole strawberries, cleaned
1 package (8 ounces) frozen sliced strawberries, thawed and drained (reserve juice)
Sponge cake
Cream filling
Strawberry jam (about 4 ounces)
Rum and/or brandy (optional)
Place first layer of cake on a serving dish. Sprinkle with ¼ cup reserved strawberry juice and 2 Tbsp optional brandy or rum (or both). Spread with ¼ cup strawberry jam (thinned with juice or rum if it is too thick to spread easily). Cover with half the drained, frozen strawberries and about 1/3 of the cream filling. Place the second layer of cake on top. Repeat sprinkling of ¼ cup strawberry juice and 2 Tbsp brandy or rum, and spread with ¼ cup jam, the rest of the drained, frozen strawberries, and 1/3 of the cream filling. Use the remaining cream filling to coat the sides of the cake and pipe an attractive border around the top (optional). NOTE: this recipe makes a lot of cream filling and not all of it need be used.
Dip whole strawberries in strawberry jam so they are shiny. Carefully decorate the top of the cake with the whole strawberries, sticking them stem-side down into the cream. Use as few or as many strawberries as you like.
Refrigerate the cake until ready to serve.
For a more elaborate version, cut each sponge cake sideways into two layers and assemble a four-layer cake. For an easier version, use store-bought sponge or angel food cake.
THIS CAKE lends itself to many variations. You may use different kinds of fruit (pineapple is fantastic!), different kinds of jams (apricot good with pineapple), and flavor the cream with liqueurs or extracts. You may also use custard or pudding in place of jam between the layers for a very English version.
--ChefBilly
ChefBilly is an Internationalist . . .
The Caravan travels in search of cuisine from around the world.
From time to time, ChefBilly travels abroad to converse, confer, and otherwise hobnob with his fellow chefs, vowing that at what time (if any) he does return to the Inn he will bring back new and exotic recipes.
And sometimes the recipes come to him . . .
ALERT: CHEFBILLY IS LOOKING FOR A RECIPE FOR CANADIAN BUTTER TART PIE.
      Today, the Caravan takes you on journeys through . . .
Greece
In the next edition . . ..
ChefBilly will continue to bring you easy and delicious recipes from around the world.
As the ChefBilly website expands, it will offer tips, anecdotes, products and recipes for occasions throughout the year. Browse the ChefBilly website as a resource for food and fun! Future segments will provide more suggestions to make your parties great! For our featured products and services, don't forget to visit The Resource Center. In a hurry for a bargain? Go straight to Hot Shots.
Copyright © 2003 by William Gordon McDonald
Index
Cocktails
Nonalcoholic
Groundhog Day
Creamed Spinach with Mushrooms and Cheese
Ham Slices with Port and Cream
Ham with Onions, Mushrooms and Cream
Carnival
The Second Round
Mardi Gras
Québec Winter Carnival
Birthday
Saint Patrick's Day
Easter
A Greek Tradition
Bill's Country-Baked White Bread
ChefBilly's Secret Salad Dressing
Kostas's Tomato and Feta Omelet
Caravan
Mother's Day
Chicken!
ChefBilly's Orange Chicken Baked with Onions
ChefBilly's Oven Fried Chicken
Greek-Style Rotisserie Chicken
Barbecue!
Harvest
Bill's Let's-Win-the-Super-Bowl Pork Roast
Cel's Recipe Box
General Information
Products and Services for Enhanced Living